Your New Self Improvement Ebook
You Are A Giant
Your Ebook Is Ready For You!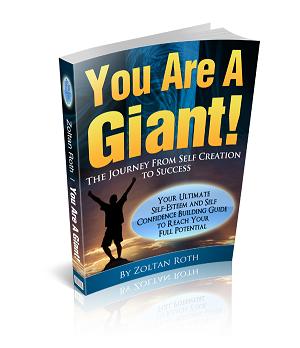 Thank you for your patience, since it took a bit longer to put together this self-esteem and self confidence building Ebook than I expected.


It was a long "labor" for me to give birth to my baby: You Are A Giant - your self improvement e-book.


This is your journey from self creation to success.


You will find lots of self-esteem and self confidence building exercises, techniques, methods and games to reach your full potential and to live the life you deserve.



Read more about your self improvement Ebook here!
I know. Life is Hard - Especially When You Feel Depressed


Sometimes you feel like you missed the turnoff somewhere down the line, and drifted way off course. Along the way, you also lost respect for yourself. Your self-esteem and self confidence disappeared, and now you're stuck - going through the motions every day but with no clear direction and no hope for a better tomorrow.


But, there is NOTHING that is capable of keeping you from being a joyful, satisfied, productive person. Not life's circumstances, not financial situations, not relationship issues, not even sickness.


YOU can decide you want a happy, fulfilled life, and achieve your goals against all odds!


No matter who you are, where you came from, or what baggage you carry - YOU can find happiness in each day and rediscover that part of yourself that seems to have gone missing.


There is a step by step self-esteem and confidence building guide in your e-book with a 7 day self-esteem building program you can follow.


I'm not saying it will be easy to make the necessary changes in your life in order to step out of your comfort zone into a more prosperous future, but you can do it. It will be beneficial for you.


You have to be willing to do the work though! But I can provide you with guidance that will fast track you to that better tomorrow you've been dreaming of - through exercises, methods and techniques I've tested, refined and used to help hundreds of other people who found themselves exactly where you are right now.


The benefits of the Self Improvement E-book include;


Discovering who you really are inside, and what you are capable of
Learning how to harness your inner voice and make it work for you instead of against you
Realizing how to reach your full potential, no matter what your personal circumstances are
Creating connections in your mind to help you respond with positive thoughts and actions in any situation
Forming the habit of being 'in the moment' - completely joy-filled and focused on everything you do
Expanding your horizons; reaching for the stars and learning to set and achieve goals
Teaching you to stand up for yourself - even when it's YOU who keeps putting you down
It's only $19.95
What will you receive?
Physical, mental and spiritual exercises and activities to kick-start your 'recovery' and boost your self-esteem and confidence
Blueprints for self discovery, including tips on how to reclaim your self worth and become more self aware
A step by step guide to goal-setting, including tips on how to define goals, when to set new ones, and how to ultimately achieve them
Motivational exercises, quotes and tips to get you started and keep you moving forward
The secret to 'in the moment' living - leading to a joy filled existence!
In addition to it, your self improvement e-book will include 40 different worksheets, tests, questionnaires and lesson plans about self-esteem and confidence building, goal setting, time management, team building and a lot, lot more.


My tests have been already used to help people in the United States, Africa, and various countries in Europe including my native Hungary.



You Are A Giant - your self improvement e-book.
I would like to encourage Universities, Collages, High schools and/or Elementary schools or any other educational institutions to feel free to use these carefully selected tests in the e-book.


I'm so sure you will benefit from my self improvement ebook that's why I offer you a 60 days money back guarantee. That's right, if you aren't completely satisfied with your purchase after trying out the methods in my book, just ask for your money back - no questions asked.


You have nothing to lose and everything to gain!


Order your: You Are A Giant self improvement ebook today. Take action to make your life better. Your Life Could Be AWESOME!


It's only $19.95


Thank you for your feedback and generous support. It means a lot to me. :)



Should you have any question or would like to leave your feedback, please do not hesitate to contact me through my contact page.


Please read about the benefits of the Himalayan goji berries

I would like to have your feedback to deliver the information you need in the future and to give you the proper support for building your self-esteem and self confidence. Any comments, suggestions would be much appreciated.



Life is awesome. Enjoy it my friend.





For additional information please visit my website




Thank you for listening.




Zoltan Roth