Quotes on Success
Meditating over quotes on success can renew your determination to succeed as well - in the things that are important, not some fairytale idea of what success is, or success measured by how you look, who you date, what you drive or what you make.
The men and women who have achieved success know that they've done far more than become famous, rich or recognized. Success is a state of mind above all else - a recognition of inner greatness manifested in your life, be you a celebrity or a housewife.

Self-esteem quotes Inspirational quotes Family quotes Funny quotes Team building quotes Romantic quotes Responsibility quotes Happiness quotes


The best time for new beginnings, is now.
It is better to live one day as a lion, than a thousand days as a lamb. - Roman proverb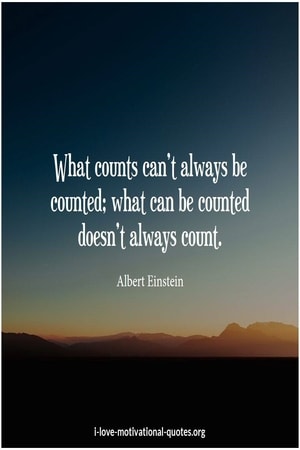 What counts can't always be counted; what can be counted doesn't always count. - Albert Einstein
What is success?

"When a man feels throbbing within him the power to do what he undertakes as well as it can possibly be done, this is happiness, this is success." ~Orison Swett Marden
"You have achieved success if you have lived well, laughed often and loved much." ~Anonymous
"Success is getting what you want; happiness is wanting what you get." ~Dale Carnegie
"Success is not the key to happiness. Happiness is the key to success. If you love what you are doing, you will be successful." ~Herman Cain


How does one succeed?

"Would you like me to give you a formula for success? It's quite simple, really. Double your rate of failure. You are thinking of failure as the enemy of success. But it isn't at all. You can be discouraged by failure or you can learn from it, So go ahead and make mistakes. Make all you can. Because remember that's where you will find success." ~Thomas J. Watson
"My list of ingredients for success is divided into four basic groups: Inward, Outward, Upward and Onward." ~David Thomas


Who can achieve success?

"The great successful men of the world have used their imagination…they think ahead and create their mental picture in all its details, filling in here, adding a little there, altering this a bit and that a bit, but steadily building - steadily building." ~Robert Collier
"Most successful men have not achieved their distinction by having some new talent or opportunity presented to them. They have developed the opportunity that was at hand." ~Bruce Barton
"Success often comes to those who have the aptitude to see way down the road." ~Laing Burns, Jr.
"Truth, self control, asceticism, generosity, non-injury, constancy in virtue — these are the means of success, not caste or family." ~Mahabharata
"A man is a success if he gets up in the morning and gets to bed at night, and in between he does what he wants to do." ~Bob Dylan


Where is success to be found?

"Success doesn't come to you…you go to it." ~ Marva Collins
"Success is a journey, not a destination." ~Ben Sweetland
"You cannot sit on the road to success for if you do, you will get run over." ~Anonymous


When will I succeed? Today! Tomorrow! Every day!

"The secret of success in life is for a man to be ready for his opportunity when it comes." ~Benjamin Disraeli
"To me success would be to be able to do your very best in everything you do." Paul Cummings

Pick three favorites from these quotes on success to memorize!
Success quotes for self development
Confidence quotes from quotes on success
Zig Ziglar quotes to get you going