Self-esteem affirmations
Positive affirmations
Self-esteem affirmations have a very special place in our every day life. Positive affirmations can "re-wire" your brain and give you a feeling of happiness, the power that can help you dealing with the challenges you face. Every morning when you get up choose one of these self-esteem affirmations. Say it to yourself throughout the day as many times as possible. Say it with enthusiasm and power. You can change the affirmation daily or you can stick with the one you like. Let it soak into your brain to fill it up with positive, encouraging power.
Why in the morning? Because you are relaxed. You did not start to worry about the challenges ahead of you and if you think about these positive affirmations first you initiate positive feelings right at the beginning of the day. You will feel the difference in your attitude. Your body and mind will reflect that feeling too. If you are cultivating positive thoughts you can achieve everything while on the other hand by nurturing negative patterns you will most likely accomplish nothing.

Use these self-esteem affirmations to get going in the morning
• I AM THE BEST
• I AM HAPPY AND SUCCESSFUL
• I CAN DO EVERYTHING
• I CAN MAKE A DIFFERENCE TODAY
• I DESERVE TO BE HAPPY
• I AM A GREAT COMMUNICATOR
• I PULL BACK MY SHOULDER, LIFT UP MY CHIN AND I FEEL THE POWER
• I AM RELAXED
• I FEEL GREAT
I was always wondering when people ask the question: "How are you?"- Do they really mean that? Or they just use this phrase to start the conversation somehow. Try to surprise them. Next time give them a different answer and see their reaction to it. Answer them with something like this;
- Perfect. If I was any better I would be a fairy tale.
-Excellent. I am on the top of the world and I take you up there.
- I am in paradise. Would you like to have a cup of coffee with me up here?
Doesn't it sound better than saying; I am OK, not bad or good, thanks? They will probably smile at you or think that you are crazy. But, what's wrong with a little bit of craziness?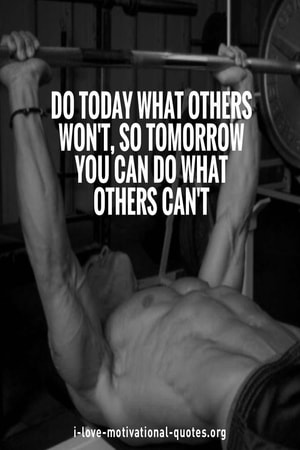 "Do today what others won't, so tomorrow you can do what others can't"


"There's only one corner of the universe you can be certain of improving, and that's your own self"
(Aldous Huxley)
---

"Be the change you want to see in the world." (Mahatma Gandhi)


---

Developing self-esteem
Developing self-esteem is hard work. But you can make it a fun adventure by utilizing the resources that are available for you. Let's see how you can recognize when you have healthy self-esteem.
Famous inspirational quotes and sayings
Related pages
Self-esteem quotes and sayings

The power of positive thinking
Words of affirmations for wife
From self-esteem affirmations to home page
Please don't forget to sign up for my free monthly newsletter!