Inspirational quotes for women
Great quotes and sayings to inspire you ladies
These inspirational quotes for women reflect our admiration toward the most beautiful, most sensitive, most caring and most lovable gender; the WOMAN. Ladies, please enjoy the following quotations and gather confidence from them. Without you, we (man) would not exist. So thank you for being here with us today.
• Woman was taken out of man; not out of his head to top him, nor out of his feet to be trampled underfoot; but out of his side to be equal to him, under his arm to be protected, and near his heart to be loved. (Anonymous)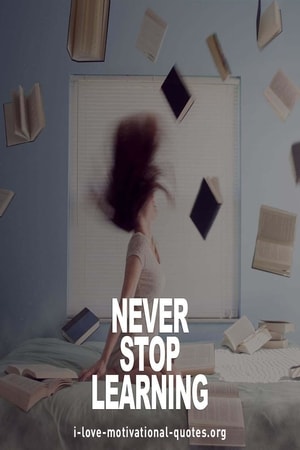 inspirational quotes for women
"Never stop learning"
Other motivational and inspirational quotes for women for their everyday life

• How important it is for us to recognize and celebrate our heroes and she-roes! (Maya Angelou)
• In politics if you want anything said, ask a man. If you want anything done, ask a woman.(Margaret Thatcher)
• God gave women intuition and femininity. Used properly, the combination easily jumbles the brain of any man I've ever met. ( Farrah Fawcett)
• The fastest way to change society is to mobilize the women of the world. (Charles Malik)
• The trouble with some women is they get all excited about nothing - and then they marry him. (Cher)
• A man falls in love through his eyes, a woman through her ears. (Woodrow Wyatt)
• The expression a woman wears on her face is far more important than the clothes she wears on her back. (Dale Carnegie)
• Most women set out to try to change a man, and when they have changed him they don't like him. (Marlene Dietrich)
• You can't change a man. Unless he's in diapers. (Mary Bennett)
• It is the woman who chooses the man who will choose her. (Anonymous)
• When women are depressed, they eat or go shopping. Men invade another country. It's a whole different way of thinking. (Elayne Broosler)
• Women should be tough, tender, laugh as much as possible, and live long lives. The struggle for equality continues unabated, and the woman warrior who is armed with wit and courage will be among the first to celebrate victory. (Maya Angelou)
• I believe in life after birth! (Maxie Dunham)
• I believe that there are certain attributes in a woman that give her some advantages over a man. Women are usually more honest, more sensitive to issues and bring a stronger sense of commitment and dedication to what they do. Maybe because they were mothers and being a mother you have that special attention for the family, for the young, for children. (Ellen Johnson-Sirleaf)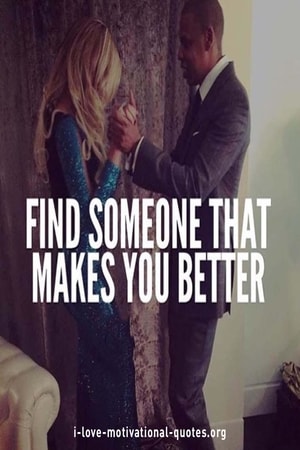 get inspired
"Find someone that makes you better"
Recommended pages

Free inspirational quotes
Inspirational quotes of the day

Self-esteem quotes from inspirational quotes for women

Famous romantic quotes by famous people
Return to home page from inspirational quotes for women